The 2020 Young Science and Fellowship Conference at the University of Information Technology is organized to facilitate students, graduate students, graduate students, and young staff and lecturers to report on research results. assist; soon combine research results with practical application of science and technology. The conference also contributes to promoting the learning, scientific research and creativity movement among students, graduate students, graduate students, young lecturers, thereby selecting excellent works to participate in the scientific research competition. students of all levels.
The Organizing Committee would like to invite students, graduate students, graduate students and young staff and lecturers to participate in writing the report at the 2020 Youth Science Conference and graduate students at the Public University. Information Technology.
Content: Focusing on ideas and solutions to applying information technology for management, socio-economic development, education - training, community health and environmental protection .
Form of presentation of the report:
Vietnamese or English
Report in the format of LNCS Author Guidelines - Springer.
The report must not exceed 10 pages in length A4 (including drawings, maps, charts, and references, ...).
Time:
Submit the full article: September 15, 2020.
Notice of article acceptance: September 20, 2020.
Conference organization: October 8, 2020.
Submit article: http://bit.ly/KHT-NCS2020
Address:
Youth Union Office - Student Union
University of Information Technology, VNU-HCM
Quarter 6, Linh Trung Ward, Thu Duc District, City. HCM City
Email: This email address is being protected from spambots. You need JavaScript enabled to view it.
Website: http://khoahoctre.uit.edu.vn.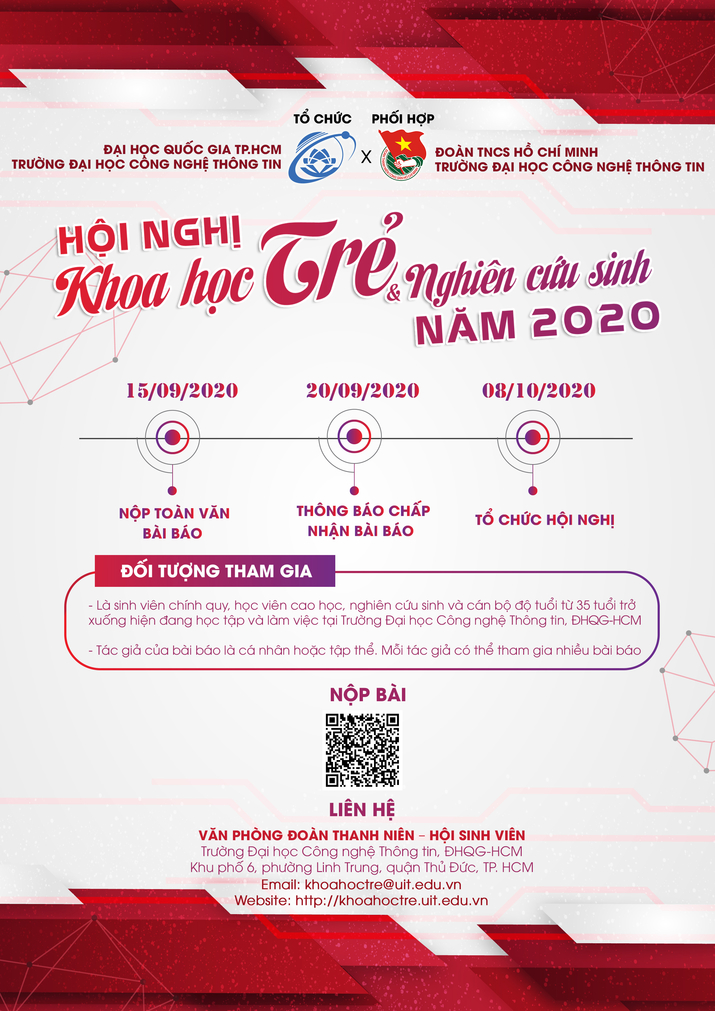 Implementing the plan to implement the project "Education model 4.0 based on modern CDIO application at VNU-HCM, period 2018-2022" (Education Project 4.0) at University of Information Technology, our School will organize seminars to introduce intellectual property in the IT field for students to raise awareness of intellectual property among students.

The Office of Graduate Study, Science & Technology announced to organize an introduction workshop on intellectual property in IT for students here: https://khcn.uit.edu.vn/thong-bao-ve-viec-dang-ky-tham-du-hoi-thao-gioi-thieu-ve-so-huu-tri-tue-trong-linh-vuc-it-cho-sinh
According to the Organizing Committee of IT Car Racing Season 9 - 2020, the contest aims to diversify contestants.
The IT Car Racing contest is an academic competition for embedded programming in the form of automatic line detection racing organized annually by the CEEC Club (under the Department of Computer Engineering). The contest is held every year for all students and students who love to create and design products that have practical application in life. Currently, UIT CAR RACING 2020 officially opens the registration link with 2 tables:
Amateur Table: for Year 1, Year 2 and High school students. Program and participate in extremely intense races on the LINE TRUCK using infrared!
Professional table: for all students in schools in the National University. Program and enter races with the latest in image processing technology!
If you do not know anything about the hardware, do not worry because the car will be completely PROVIDED by the organizers, the candidate only needs to program the software for the car.
The organizers will provide special training for the contestants to be able to use the car and join the track in the best way.
Registration period: from now to 30/7/2020.
Registration link: https://forms.gle/CXCBkBiHYGCNk7o89
Registration fee:
+ Amateur table: 150,000 VND / team (maximum 3 people). Candidates will be refunded 100,000 VND after participating in the contest.
+ Professional board: 250,000 VND / team (maximum 3 people). Candidates will be refunded 200,000 VND after participating in the contest.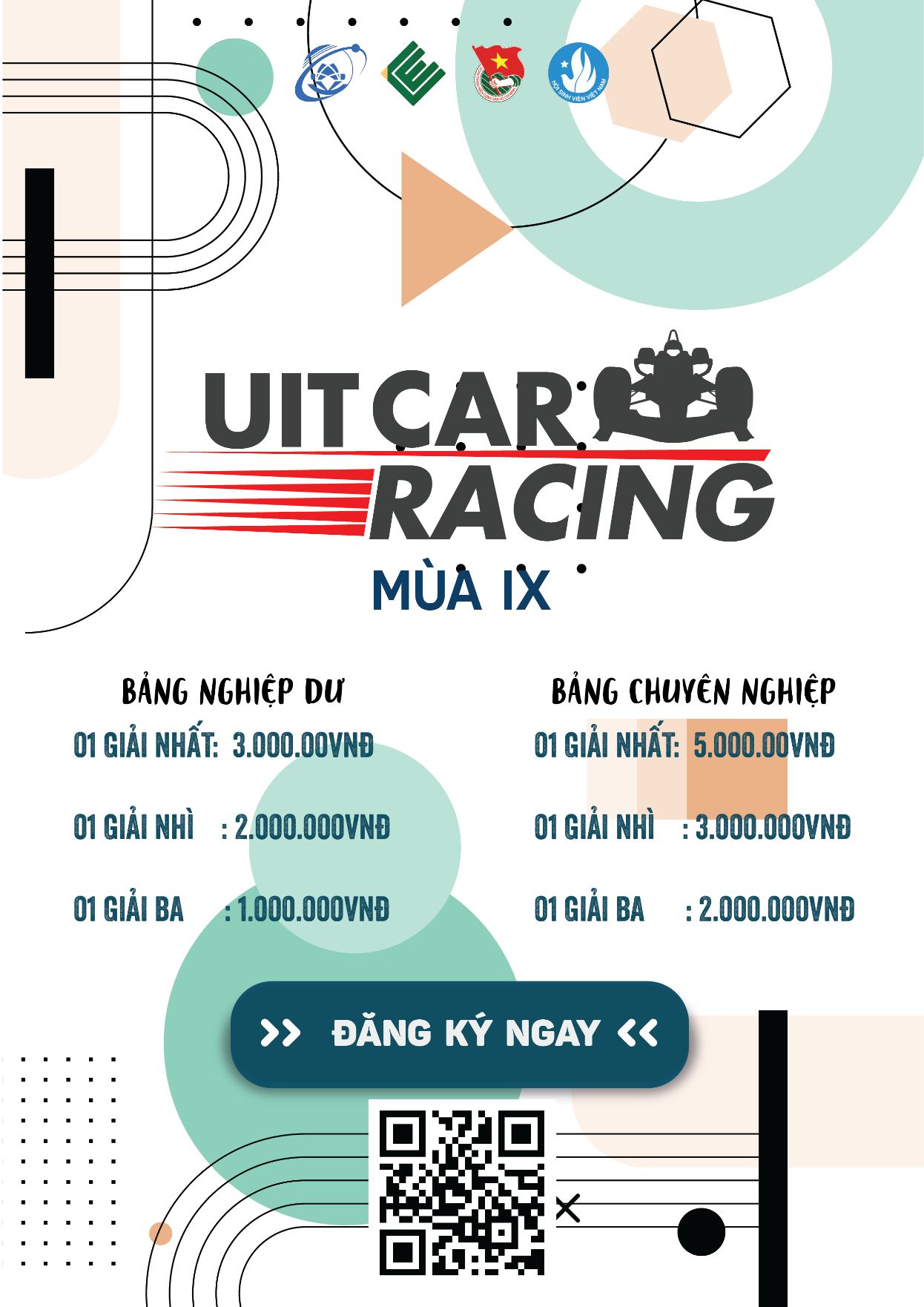 - Eureka is a scientific research award for students jointly organized by the Youth Union of Ho Chi Minh City and VNU-HCM.
- Participants are students of universities and colleges nationwide. Students can test individually or in groups of up to 5 students, each student can participate in many topics.
Some timelines:
Time to submit the registration to the school: 09/10/2020 (can be extended to 09/18/2020)
School-level approval results: announced in advance: September 25, 2020
Complete editing and submitting the registration for Thanh: before September 30, 2020.
Note: After reviewing and correcting comments at the school level, they will be submitted to the City level. The registration will be carried out by the Youth Union and the Office of Graduate program .
For details on regulations, forms, and registration form, please see:
https://www.uit.edu.vn/giai-thuong-sinh-vien-nghien-cuu-khoa-hoc-eureka-lan-thu-22-nam-2020